Jipatie 3G tHL tablet slim model yenye notes zote Form I - VI, 7.8 inches, 5.0mp Camera, Android 4.4 OS, 8GB space, inapiga simu, double line. Unaweza install program zote za android kama whatsApp, n.k. bei 440,000/= Contacts: 0767 663 951, 0674 338 033, 0785 909 038. Email: sales@twigaonline.com. Ofisi ipo hapa Twiga Hosting Ltd, Josam House, Mwenge Coca cola road, Dar es Salaam.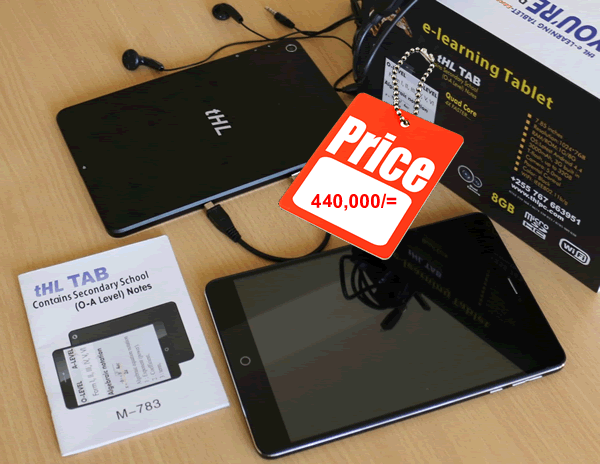 Protection of children online: tHL web Browser 2.0 for computers added function for safe browsing to all ethical sites + All secondary school notes Form I - VI included. All access to un-ethical sites are automatically blocked. This browser can be used by children from 7 years without any harm.
Free Download now from http://thlpc.com/ , After you download and unzip you will find instructions to install and use inside of unzipped folder.
Children who access the safe internet, they learn better, gain in self-confidence and they retain what they have researched for much longer than that gained through traditional rote learning.
The internet can harm, but can also be a child's best tool for learning if used safely.

Jacob Noel Urasa - the tHL core founder
-------------------------------------------------------------
Online 1 month free access to all tHL materials/notes (Form I - VI)
All secondary school students Tanzania, I wish you the best holiday period filled with fun and excitement.
I know Form II and IV you are in your National Examination preparation, you need to prepare and do reviews during the holiday. For God love tHL is giving 1 month online free access to all tHL materials (Form I - VI) from today. I hope you will enjoy your holiday to the maximum.
Also you will get Free Online educational assessment tool for secondary school students. Once student do online exams, quizzes or tests the system will mark and provide results and solutions. At least one review paper will be released daily for 30 days from today.
It is available in Play store (search thl and install).
We will continue to work hard to make Tanzania stay ahead of e-education game in Africa and globally. More than ever before, we are ready to go further.
Finally,
We thank you for your appreciations to tHL that triggered tHL to be the winner of CLOUDS MEDIA GROUP award in February 2015 as a GAME CHANGER winner in education.
God bless you.
Jacob Noel Urasa - the tHL core founder